Mixing it up with Blender
3D Composite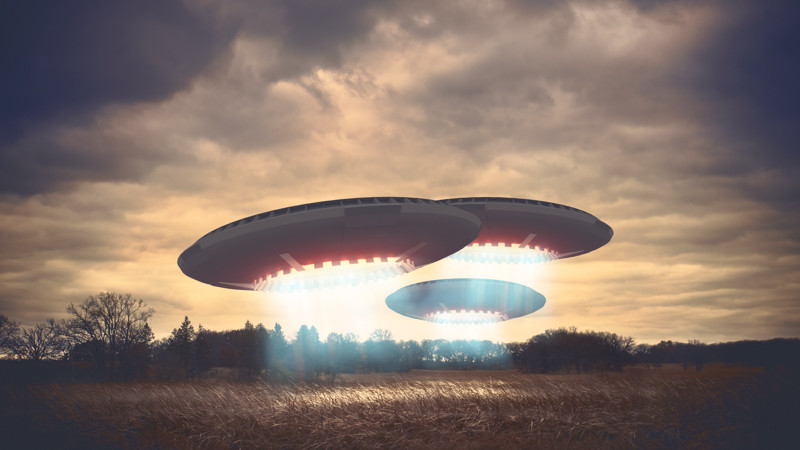 A fellow ambient artist, Phillip Wilkerson, asked me if I could put together some album art for one of his upcoming releases. One of the requirements was something a little too science fiction for just my camera. And, unfortunately, I didn't have any photographs of UFOs.
I took to the sketchpad and I tried drawing the UFO. That ended up so disastrous it would've made an EMT first responder shudder. I even tried outsourcing and crowdsourcing. Apparently I'm not good at that either.
So in about 16 hours I learned Blender. Well not all of it. Blender is a free and open source 3D animation suite. It supports the entirety of the 3D pipeline—modeling, rigging, animation, simulation, rendering, compositing and motion tracking, even video editing and game creation. So yea, I didn't learn all that. But the past few days that I have been sick I've really been enjoying what this program has to offer.
Here's how the 3D object looked in Blender after I modeled it: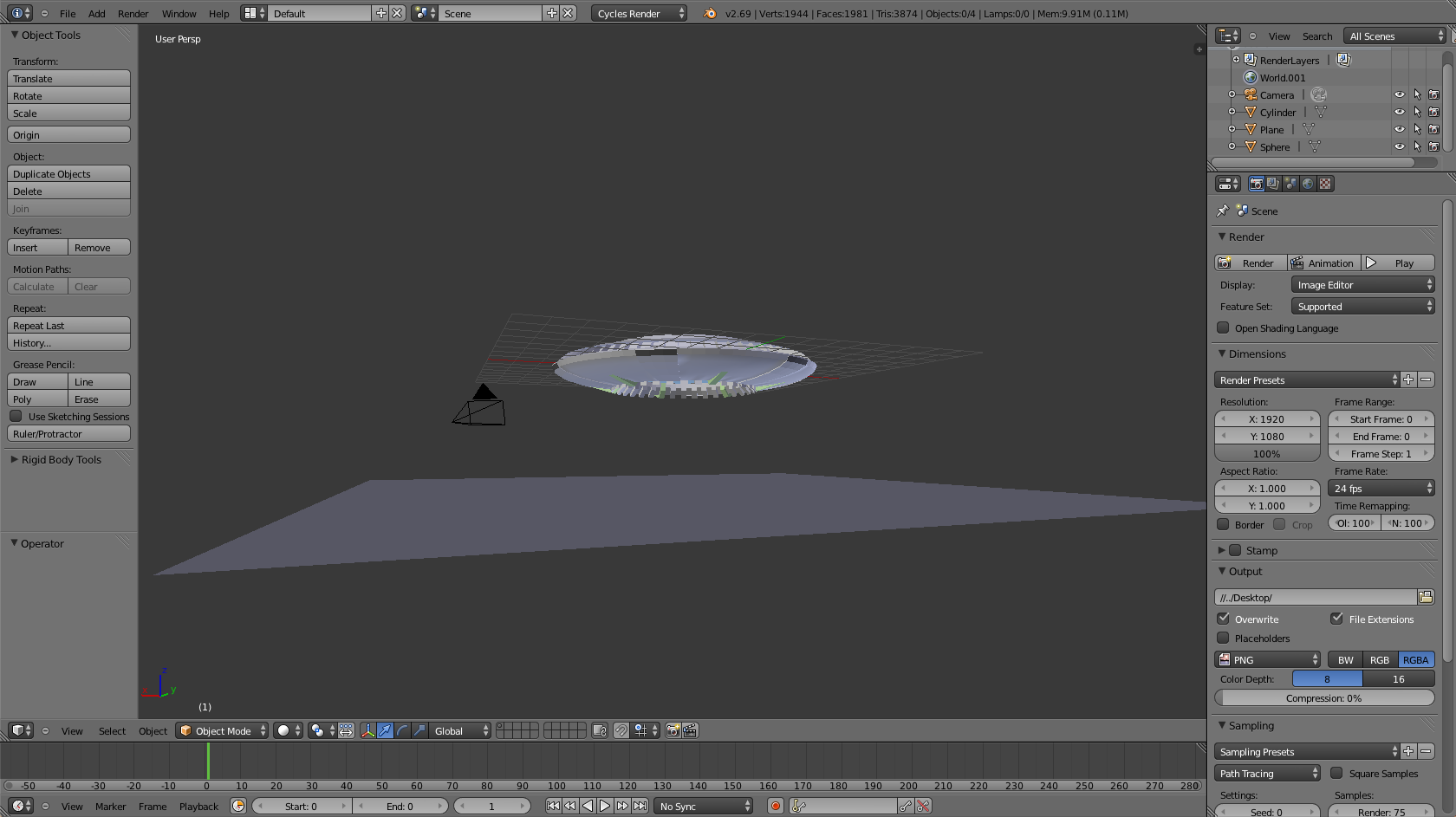 That's all from scratch too. No pre-made UFO objects or anything. I just used the built-in primitives and my imagination.
Getting the lighting to match was a little tricky, but here's how I did it: I took the sky from the original photo and imported it into Blender as an Environment Texture. I then made a huge square texture of grass (basically copying and pasting over and over the bottom portion of the source photo) and applied it to a huge plane under the UFO object. The environment texture helped cast the right tones and the grass plane provided the right ambient shadows and light cast back on to the UFO. As far as the center lighting, well some of it was done in Blender. I added an emitter object into the center of the UFO and that helped with some of the light.
Here's what the final rendered UFO looked like when I brought it into photoshop: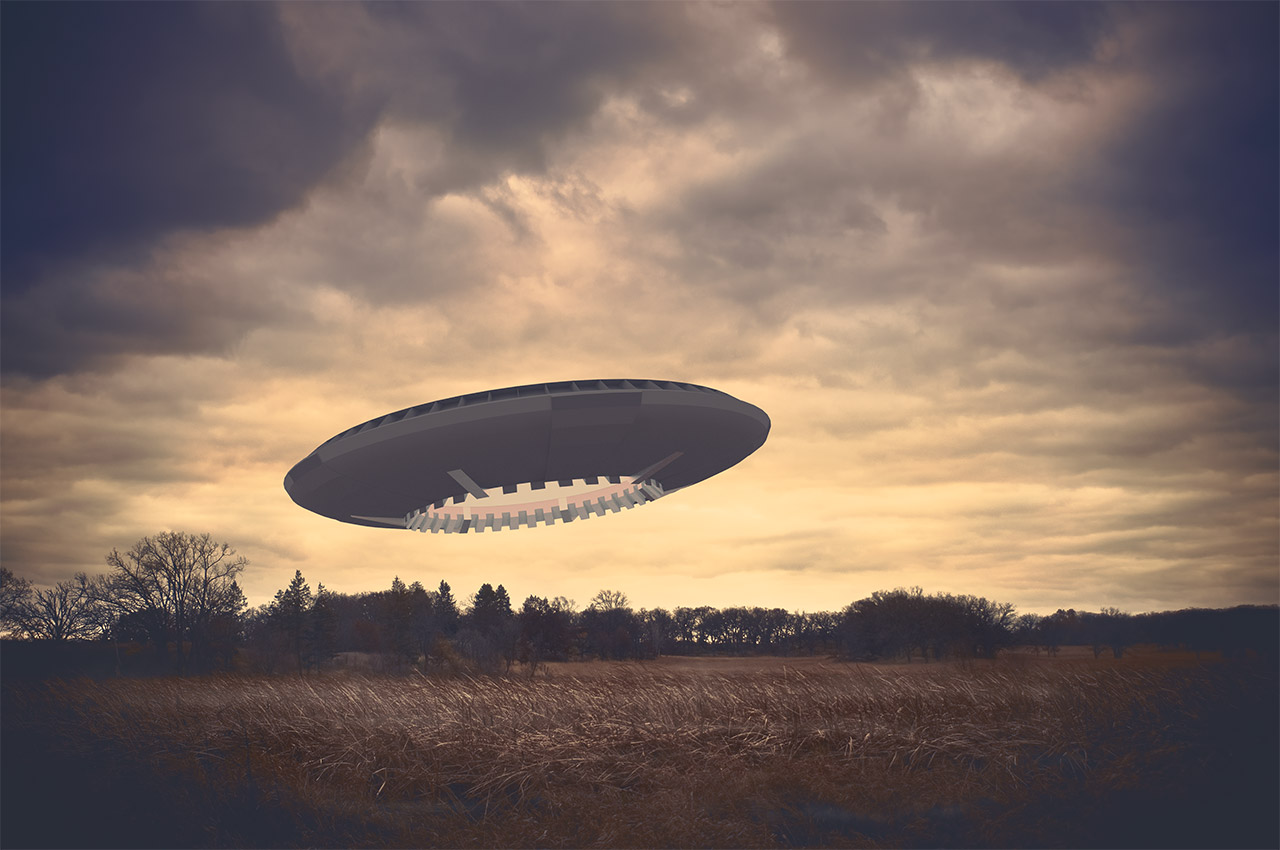 Yea. Not too realistic. It definitely needed some extra effects and interaction with the scene to pull it all together. All the other effects you see for lighting and fog are all painted in with Photoshop.